Digital IO (Toshlink, Cinch)
Codename: MEDIO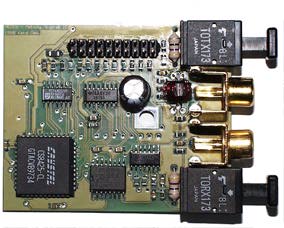 About:
DigitalIO is an expansion for MelodyNG.
Like all our NG stuff DigitalIO may be used via Zorro 1200 plus Melody1200, soon. Using this board Melody1200 is working fine for Zorro machines, too.
DigitalIO makes use of an A-LAN Controller. It offers digital input and output and even allows networking these devices. The final fuctionality is not decided up to now.
DigitalIO offers golden RCAs / CINCH (Twistend-Pair) and even TOSHLINK (optical, fibre) in- and outputs.
Requirements:
Status:
Late prototyp was shown at Computer'98, Cologne
Design is ready for series production
Availability:
Not available at all dealers for first (due low numbers are expected)
contact Gruner Bürotechnik
---
AMPlifier LCD Output
Codename: ALC

About:
LCD-Ausgabe is an expansion for MelodyNG and even plain Amigas.
The goal of this hardware is the display and control of AMPlifier without using a screen. Time played, name, ID-3 Tags etc. is additionally visable at a 4x40 Dot-Char Display (picvue).
Another possibility besides connecting it to Melody's controll bus is the use of Amiga's build-in Parallelport (as shown above)
Requirements:
Amiga with MelodyNG or Amiga with Parallelport (Chipset only)
Status:
Prototyp works since months
no commercial distribution therefore docs are done for posting it to aminet
---